The other day we found out some very excited news for sweet Silas!
No, he doesn't have a family yet, even though he REALLY needs one. But now he has a much better chance at finding a family!
Do you know why? Because he's not turning 8 this year, like we thought, he's actually only turning 5!! He was born in 2007, not 2004!
And because we have his correct birthdate now, we were able to find new (to us) pictures of him!!
These pictures were taken in April 2011. Isn't he precious????
However, even though Silas has not been transferred yet, he will be in the next year. The baby house he is still in, is a really nice place as far as orphanages go. But the institution he will go to might not be so nice.
PLEASE, he needs to be RESCUED before it's too late. Right, now before he is transferred would be a wonderful time to bring him home, so he never has to know the horrors of the institution.
I've blogged about it before, but there is also a giveaway for Silas going on right now that I helped put together, to help raise his ransom. He only has $184 in his grant right now. And there is still much more to raise.
There are many awesome prizes that you can win. And right now, since the ratio of prizes to donors is 12:2, you have a pretty good chance to win something!! (Some of the electronic prizes will not be given away until a certain amount is raised, and there is a separate prize for those who shared the giveaway.)
So check it all out here on Steph's blog!
And it only runs until May 1st, so go enter today so you don't miss out!!!
PLEASE HELP US SET SILAS FREE!!!!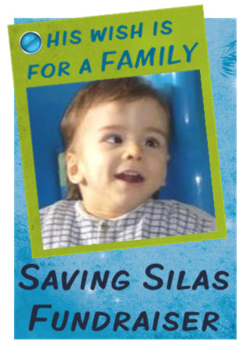 Boy, Born November 29, 2007
Silas is a handsome little boy with brown hair and big brown eyes. He is affectionate and has a glowing personality. He is engaging, alert, and aware. He was born with CP and all of his limbs are affected by the spasticity. he has also has strabismus, which could be corrected with surgery. He is not able to walk, but will truly blossom in a loving family who can provide therapy and encouragement for his progress.
UPDATE (April 2012) – Silas has NOT YET been transferred to the institution, but will be in the next year. He will remain bedridden the rest of his life is he is not adopted.
Silas was born in 2007, not 2004 as was previously listed! The picture on the left is from April 2011.
Please consider Silas!
$184.00
is available towards the cost of my adoption!