Yup, I'm attempting it again this year! 31 for 21 - blogging everyday in October (31), to raise awareness for Down syndrome (21)! If you would like to sign up or see the rules,
please go here
. :)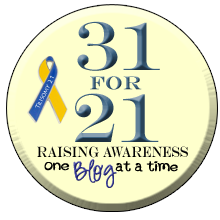 Grab This Button
October is Down syndrome awareness month, so I plan on blogging every day about Down syndrome in general, my brothers who have Ds, a waiting child with Ds that needs of a family, or something to raise awareness! :)
I'm so looking forward to reading the posts those of you who are also participating!
Happy October Everyone! Let's make a difference in the lives of those blessed with an extra chromosome this month! :)