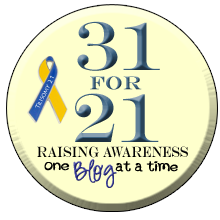 Grab This Button
October is National Down Syndrome Awareness Month! And I officailly joined the challage to blog every day in October to spread awareness for DS (Down Syndrome). If you don't get the 31 for 21 part, there are 31 days in October, and Down Syndrome is a duplication of the 21st chromosome, but more on that later! :) They might not all be about DS, but I will blog everyday, and for the most part all the children I feature for WW, FF, and MM will have DS!
Well, since today is October first, it's day 1! :) All I have to say today is that I have two brothers with DS, and they are AMAZING!!!
Jonathan and Elijah
Tomorrow will be a post about the DS awareness walk today. (There! I published it, so I have to do it! :)) And if you haven't ready my post from yesterday, I suggest you go back and read it! :D
----------------------------------------------------
Little Lovey Lyla needs a FAMILY!