Today I want to introduce you to a family I love so very much!! - The Burman Family!!
(All pictures in this post used with permission)
So everybody knows who Carrington is, right?? I've
posted about her
a time or two before...
Isn't she GORGEOUS?? You can visit her blog here - Carrington's Courage. Sweet Carrington when from a 11 pound forgotten orphan on the other side of the world, to a VERY loved little girl with ever growing chub! From Orphan to Princess, it's miraculous what a FAMILY, and some LOVE can do!
Her family, the amazing Burman's, have been called to rescue more precious little ones yet again!! They committed to sweet Teagan Chance awhile back, and I happily helped Mrs. Burman design Teagan's blog -
A Torch for Teagan
! And because the Burman's have a habit of bringing home multiples, they just recently committed to Kelten Drake as well! :)
Teagan Chance - 4 years old
Kelten Drake - 12 years old
Kelten looks like chubby two year old, but he is actually 12 years old! Yes, no typo, he is TWELVE YEARS OLD, and weighs just 26 pounds. The boys are in an orphanage where the children are EXTREMELY tiny and malnourished. We're talking about 11 year-old's that come out of this orphanage with the circumference of their upper arm measuring 3 inches. Can you see their urgency in getting these boys home??
Right now they have an AWESOME giveaway going on! A brand new 32GB Ipad2 can be yours for the taking!! With Christmas coming up, this gift would make anyone happy! It's a wonderful giveaway for two wonderful little boys!!
To enter, just go to
this post on Teagan's blog
- Donate to the chip-in on the sidebar, and leave Shelly a comment with how much you donated so she can get you entered. $10 gets you one chance at it, $20 gets you two chances, $30 gets you three, you get the picture! :)
PLEASE go donate and enter... these boys NEED you to help get them home and this family GREATLY appreciates all and any help you can give!!!
Let's bring Kelten and Teagan home!!!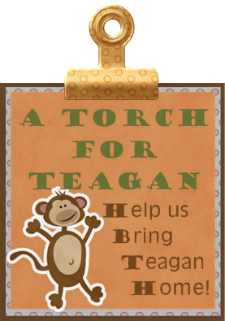 -----------------------------------------------